I have had the CND Shellac nail manicure done a number of times over the last year and I thought I would do a review on how I find the product to work and the pro's and cons.
Shellac is an acrylic gel nail polish that is painted straight onto the nail and dries hard like a fake nail. So its basically like getting a fake nail painted onto your real nail.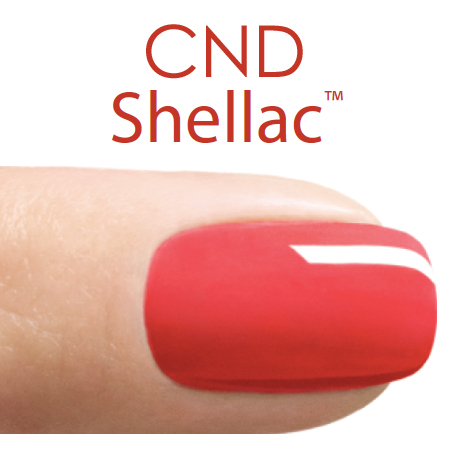 Ok now, my first mistake was not being smart enough to think "oh hang on, the above is a promo photo, of course it has been photo-shopped" - see the cuticle area of her nail. So when I went to get this the first time I had the above image in my head and that is NOT what you get. Its still great but not that flawless, so don't expect miracles.
So I saw this a number of times going past different nail salons and thought I NEED IT...off to my local Vietnamese nail palace I go.
FYI - I got this colour as it was "coral" looking in the bottle but be warned - it changes in the light, In this light it was nice coral, under different light it was fluro pink!
THE ROUTINE:
First off, they do a normal manicure where you go to the wall and pick your colour (there are only a handful to choose from for Shellac at this stage so I usually go with trusty red). The manicurist then cuts cuticles, files nail, buffs nails etc.
They then bring up a a little UV light and put on the table next to you.
So, like any manicure, you get a base coat, 2 colour coats and a top coat. You must dry your hand (one at a time) in this UV light for approx 3 minutes.
Whilst one hand is drying the lady works on the other hand, so you are swapping hands over and over into this UV light machine...thing.
PRO's:
The most amazing thing is...there is no drying time after the top coats are dry! Your nails are hard as rocks! You don't have to sit at the weird little bar and wait for everything to dry or be told to "be very careful" when you leave. They are just perfectly dry about 3 minutes after the top coat is put on.
This manicure lasts, chip free, for 2 weeks. I don't hold back when I have Shellac on - I do gardening, scrub the bathroom, use my nail to get something out of my teeth - NOTHING makes this stuff chip.

Now.. in saying the above, It can peel if your manicurist does a crappy job around the edges of your nails. This product is thick so if there is a slight overlay onto the skin or chip around the edges of the nail...it will peel up.

CON's:
This stuff ruins your nails. If you are not willing to go back and do it over and over, be prepared for some weak nails for a few weeks following the removal of the polish. FYI: In order to take Shellac off you need to go back to the salon OR for a DIY tip you buy nail polish remover that is specifically for fake nails (that is: a remover that contains acetone), wrap each nail in an acetone soaked cotton ball and then wrap with foil to protect. Leave for 5 minute and it should wipe off.

I have done this, but I just can't be arsed most of the time...what do I do...peel it off. This stuff is THICK so you find a weak point around the edge of your nail (by the end of 2 weeks these areas are lifting so its easy to peel). This isn't great for the nail obviously so if you are a better person than I, then do it properly. Although in saying that, I really do find that either way you do it, your nail is weak and peely afterwards.
The other thing is that as Shellac is basically a fake nail painted directly onto your nail, its quite chunky so you can get a rather blocky fat look to the end of your nails:
Image from Google
OVERALL:
I am a fan of this, as long as you can wear some clear nail polish after you have taken the Shellac off or go back and get it done again straight afterwards This stuff does look really good.
At first I was not a fan - the edges peeled up and it didn't last too long but then I realised that it was due to the manicurist not doing a good job, not because the product is poor.
I recommend you give it a go at least once if you are curious, just to see if its your thing. For me, I did it for a few months running and got over the fad, but writing about it is making me want to get it done again!
For nails only this will cost between $25 - $35 AUD depending which salon you go to but this is available in 99% of salons worldwide these days.
UPDATE
- I recently read an article that brings a very good point up about the use of the UV lamps used to dry your Shellac Manicure. These lights are almost the same (if not the same) as tanning beds. Therefore using these lights on your hands is not only exposing you to the risk of cancer but also prematurely aging your hands! My advise would be to put on a waterproof sunscreen at least 30 minutes before going for the manicure and hopefully it will sink into the skin enough that even with the washing hands and massage stuff, it will still protect you.
You might be thinking "who cares" and sure for a one off, no biggie, but if you end up getting this done once a month or every fortnight, just think of the UV exposure your hands are getting!
FYI - thanks to a lovely reader, I learnt that the old formulation of CND shellac contained a chemical called methylpyrrolidone with is known to cause reproductive toxicity (as in, your baby might come out with 11 toes). The company states that they have reformulated the product and removed this harmful chemical but just be wary of the age of the CND nail polish being used at your salons girls!
Louise x